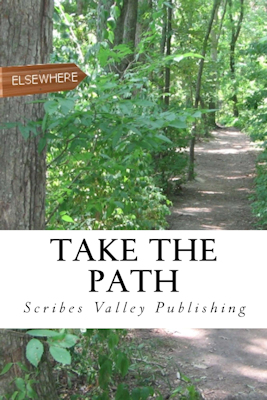 The world is on a fast track, a wide and hectically flowing fast track. Everyone seems to be rushing toward something, but do we have any idea what that something is? Usually not. Where are the quiet times? Those times when we looked forward to being with family and friends, face to face, not smart phone to smart phone? The times when we could put our feet up and open an actual book with actual pages that we have to—heaven forbid—turn? Those times are still around. They're right here between these pages. All you have to do is jump out of the fast lane, get off the broad and rushing highway, leave the electronic devices in another room, pick up this book, and simply...
Take the Path
2012 Short Story Writing Contest Anthology
ISBN: 978-0-9851833-1-8
98 pages
Warning: some adult language
Paperback
edition: $9.99 + shipping
Kindle
edition: $2.99

**FIRST PLACE**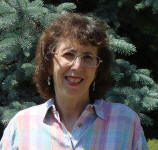 *RONNA L. EDELSTEIN WEDNESDAY NIGHT GIRL
I have been fortunate to travel through life with three role models. Grandma taught me to get up and go about my business, no matter what troubles I may be experiencing. Ma assured me that "this too shall pass." Dad reminds me that a cud-chewing cow has a more sensible look than a gum-chewing girl, that hot Ovaltine in the winter and a cold chocolate phosphate in the summer will cure all problems, and that, in the words of Rudyard Kipling, it is good to "keep my head when all about you are losing theirs." All three encouraged me to read and dream, write and create.
As a part-time faculty member of the University of Pittsburgh's English Department, I work as a consultant at the school's Writing Center. I also teach Freshman Programs, a course that introduces students to the University and the city. My work, both fiction and nonfiction, has appeared in "New Slang" A New Literary Voice by the Women and Girls of Pittsburgh" (online); Quality Women's Fiction; Ghoti Online Literary Magazine; First Line Anthology; The Road to Elsewhere (Scribes Valley Publishing – third place); Welcome to Elsewhere (Scribes Valley Publishing – second place); Visiting Elsewhere (Scribes Valley Publishing – third place); When We Are (Scribes Valley Publishing – second place); SLAB: Sound and Literary Artbook; Pulse: Voices from the Heart of Medicine (online and print); AARP Bulletin (online and print); Healthy Roots (Forbes Health Foundation and Hospice); The Jet Fuel Review (Lewis University's online literary journal); Writer's Relief (online); and the Pittsburgh Post-Gazette.
**SECOND PLACE**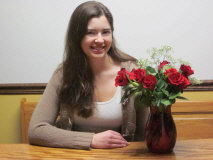 *CARRIE ROGERS AT YOUR GRAVE I STAND
Carrie Rogers lives in Minnesota where she works as a freelance editor and proofreader. She is actively involved in the diverse literary community in the Twin Cities. She writes poetry, short prose, and speculative fiction. Her work has previously been published in Studio One, The Drabbler, and Toasted Cheese Literary Journal.
**THIRD PLACE**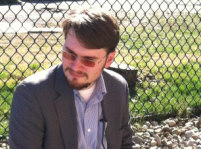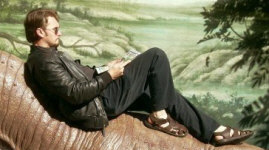 *ALEX G. FRIEDMAN
THE WORLD BEYOND THE SHELL
Alex Friedman was described in a eulogy as a fictitious character created as part of an elaborate hoax. He writes, works, and studies at Miami University. Alex would like to thank Tamara Guirado for her encouragement on "The World Beyond the Shell".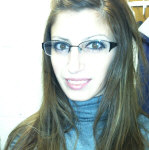 *MICHELLE WOTOWIEC NOTES ON TAKING UP SPACE
Michelle Wotowiec is a twenty-six year old Cleveland woman who holds an English MA and loves cats. Her hobbies include practicing a vegetarian diet, bicycling, traveling, watching movies, and reading contemporary realistic fiction. She also serves tables full time because she loves people and she loves the money.
Michelle focuses on appreciating the people and things around her for their own unique qualities. She has pretty much decided that happiness is really what its all about. Writing makes her happy.
She spends her free time editing and maintaining The Watercress Journal. She is currently in the process of deciding where to go from here.
In her own writing, Michelle strives to write relatable and timeless pieces that leave the reader feeling fulfilled.
*KAREN DORSEY THE BOOK
At 61, this is my first try at writing fiction and I am thrilled that my story is being considered for publication. I have written other short short stories, and with this bit of attention, I'm sure I will have the motivation to write more! I live in the Charleston, SC area and am blessed to have 2 great daughters and 3 wonderful step-daughters with a total of 5 grand children! I can hardly wait to give them my 1st published story to read!

*DAVID EMPEY COW AND CAT
Dave Empey enjoys role-playing games, science fiction and fantasy, and recreational math puzzles. A computer programmer in his day job, he belongs to 4 Toastmasters public speaking and leadership clubs and 3 informal gaming groups. He's participated in the National Novel Writing Month 4 times and has met the 50,000 word goal 3 times. Someday he hopes to write the Great American Tongue-in-Cheek Fantasy Novel and will get started on that Real Soon Now. First thing tomorrow. Or maybe the day after.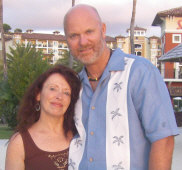 *KATHLEEN RATCLIFFE HELL FOUND ME
Kathleen Ratcliffe works for a private company as a nurse consultant and instructor for invasive and non-invasive cardiac procedures. She also assists in these procedures in several hospitals in Southeastern Pennsylvania.
She has two children, a son who is a professor of anthropology and a daughter who is a project coordinator for a local medical supply company. Her son also has collaborated with friends to publish a top selling fantasy football guide. Writing is in the family!
Kathleen's husband is also an RN. He works in a nearby hospital in the emergency department. The couple enjoys running, cycling and vacationing in warm climates.
*RACHEL WORRALL THE CHERRY TREE
Rachel graduated from the University of Cambridge in Social and Political Sciences and then worked in London as a management consultant. Since 2005 she has lived in Cambridge, Massachusetts where she writes for Ben Trovato on fashion film and photography, ghostwrites a blog, and performs interviews with editors and writers for The Review Review. Her interests in work are catholic and include time spent as a kitchen slave, nanny, waitress, cleaner, teacher, secretary, photographer and model. You can find out more about her on her blog – rachelworrall.com.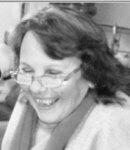 *MARY SMITH A HAUNTED HOUSE
Here it comes, fall and then winter soon after. Love this time of year. When it's cold outside that's when I do my best writing; when the best ideas seem to pop into my head and at the strangest times. Things are slow at work because old people don't like to move in the cold seasons, thank goodness. This means that I can sit and jot down ideas off and on all day and then write them up when I get home.
So here I am, better than yesterday and not as good as tomorrow.